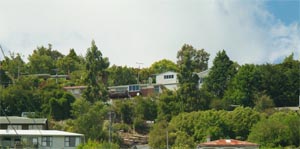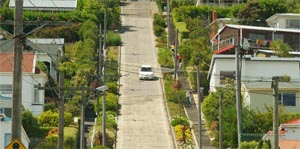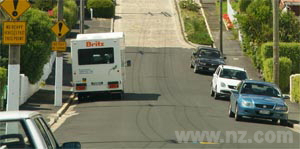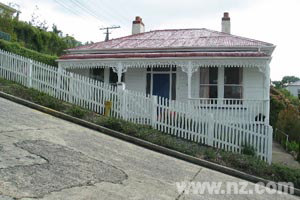 Baldwin Street
Baldwin Street is recognised by the Guinness Book of Records as the steepest street in the world. The street runs up the northern side of Signal Hill, a prominent hill overlooking Otago Harbour, at slopes of up to 1:2.86 (for 2.86m horizontal distance, a rise of 1m).
The steepness was unintentional; grids were laid out by surveyor Charles Kettle without proper regard for the terrain. Indeed some of the streets he intended were unable to be laid.
Unlike most New Zealand Streets, the street is surfaced in concrete not asphalt, as the tar would flow down the slope on a warm day as well as to provide a better grip in Dunedin's frosty winters. Stairs lead up the curb-side instead of a footpath.
There are a couple of annual events held at Baldwin street, one being the Jaffa Race at the annual Cadbury Chocolate Carnival, where 30,000 Giant Jaffas, hard orange candies with a chocolate centre, are rolled down the street. Each Jaffa is numbered, and sponsorship is sold by various local and nationwide beneficiaries who get to keep the money raised. At the bottom of Baldwin St the Jaffas are funnelled into the finishing chute to decide the winners.
Another major event is the Baldwin Street Gutbuster, a race to the top and back down again. Around 1000 people compete in different categories, but the record hasn't been beaten in over a decade. Both locals and people from all over the world come to compete.
If that sounds too much, walk up in your own time. It takes about ten minutes, just to walk about 350 metres! But don't worry, there's a drinking fountain at the top.
Tour Dunedin

Baldwin Street, steepest in the world

Tour Dunedin Area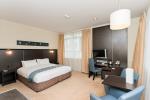 Scenic Hotel Southern Cross
- Hotel.
Dunedin's largest and most prestigious hotel, the Scenic Hotel Southern Cross, enjoys a premium location in the heart...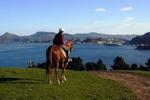 Hare Hill - Scenic Harbour Horse Trek
- Horse Riding - Dunedin.
Starting from NZ $85.00 per person
.
Enjoy stunning harbour views from horseback. A leisurely circuit through farmland and plantation, then back down the...